News
---
Well today saw three of our ponies, two home bred's leave us to go on a new adventure. I always have mixed emotions, sad to see them leave, but delighted they are going to their lovely new homes with likeminded shetland pony fans. I have to say the homes they have found are definitely 5* and it was a real pleasure to meet their new owners and even with sensible covid precautions in place there was room for tea and cake. We wish them all the best and are looking forward to getting updates once they've settled in.
---
What a difference a day makes….. Yesterday I was gardening (my day job) and it was hot, sunny t-shirt weather and very pleasant for the time of year. Today had a different forecast and it certainly has a raw feel with a strong wind and heavy rain. Watching the mares and foals on the hill from a distance this morning, they definitely knew some not so nice weather was on it's way.
---
What our stallions get up too when not running with the mares. This is Tawna Golden Shred, smashing his PB in style. It gives them something to do so they aren't bored and helps keep them fit and as you can see in photo 1, he's really going for it!!
---
What a beautiful morning. The mist sticks to the valley bottom and the grass is soaked with dew, the animals have a quiet calm about them and there is an earthy, crisp smell in the air. Autumn is definitely here.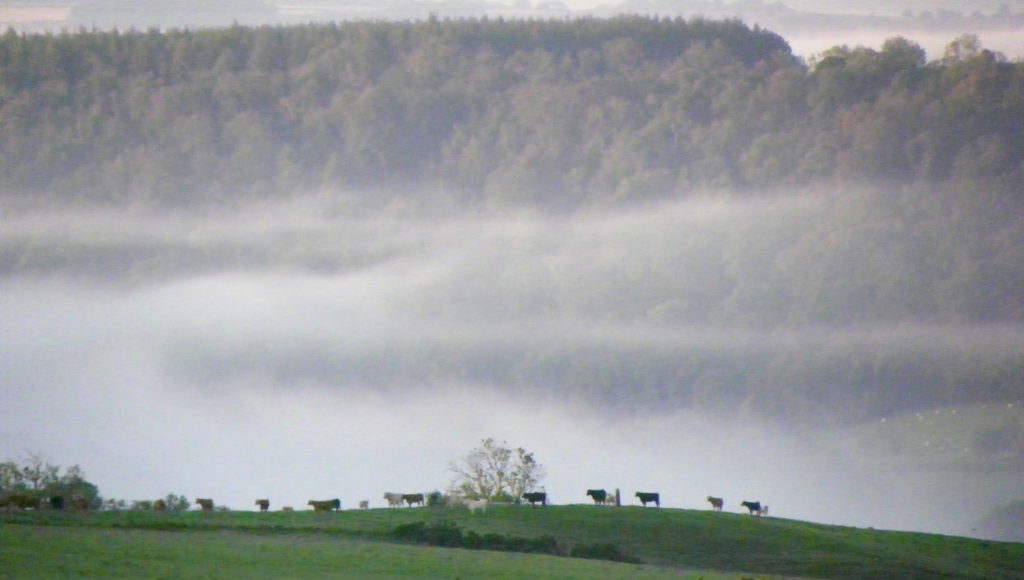 ---
Foot perfect….. Juniper one of our 2020 foals had her first proper trim from our farrier Richard. Prior to that we have handled her feet from an early age and given them a tiny rub round ourselves so she isn't too frightened by the experience. Happily she took it all in her stride and was soon back out in the field having a gallop and a quick drink from mum. In preparation for weaning and moving to her lovely new home in a few weeks time, we like to introduce new experiences, new ponies, being stabled, eating bucket feed and hay so that when the time comes she will hopefully settle quickly and find it far less stressful.
---
Training, it's nearly time for back to school so whilst I still have my helpers at home, we decided to do a bit more head collar and leading work with the foals. All the foals have been handled from birth so enjoy human company and are happy to be touched, brushed and wear the head collar. Leading can cause a tantrum or two as at first they don't like the restraint but then it seems to click and they are soon happily walking quietly at the side of mum and then independently on their own. The children get great satisfaction and enjoyment from helping them learn how to do it and seeing them progress.
---
Now the summer is passing on, it's nice to watch our foals grow in size and personality, change foal coats and find their feet in the herd.
 We also have had the results of the dna tests back from UC Davis to test for cream dilution and mushroom as sire to three of our foals, Athelney Pale Magic is a carrier of this colour. We are delighted that our colt is indeed a red based mushroom which explained his unusual pale coloured coat at birth.
---
 It's been busy here on the farm, trying to get the hay and haylage made between the " that wasn't forecast " heavy showers. I am usually banned from hanging any washing on the line at this time of year when they are hay timing as I have been accused in the past of jinxing the whole operation!! Hopefully by the end of the week our crop will be safely gathered in for another year and winter can do what it likes as we will have plenty of fodder to go round.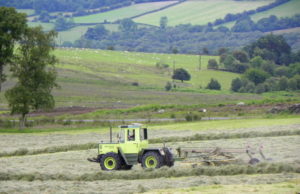 ---
It's July and our final foal has been born. All the mares were running with the stallion at the same time but for whatever reason she must have caught a little later than the others. After what seems like a lengthy wait since our first foal arrived, we have another safe delivery, very proud mum and her new baby who is completely different to the previous foal we have from this mare. It never ceases to amaze me how unique every foal is and sometimes not what you imagined but how you quickly fall in love with each one for it's own merits.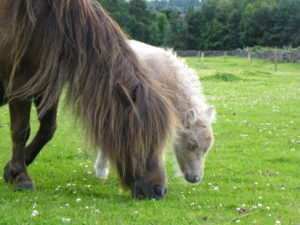 ---
 With lockdown in place, we had a long list of jobs for the vet to come out and do as soon as possible. Finally we are delighted to say that our five year old Moorsbeck Herbie 'the love bug' pictured below has passed his VVE with flying colours and is now a licensed stallion. The vet was very pleased with him and especially how well mannered he was throughout his examination. It was also time for the foals to have their microchips and registrations done as well as a little health check. Again he was pleased everything was as should be with their hearts, eyes, mouth, overall conformation, no hernia's and manhood present and correct in the case of the colt foal!!  Our mares due to go back to the stallion have had a routine teeth rasp and in line with incoming legislation a microchip if they hadn't already got one. Our 16 month old colt was also gelded as we didn't plan to run him on and feel it offers him a better quality of life and more potential of a good new home. I have to thank our vets for continuing to offer such a good service despite the odd times we have been facing recently. We really couldn't manage without them.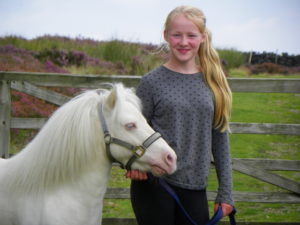 ---
Whilst this time of year tends to be all about the foals and new life on the farm, I don't like to forget our OAP's. We have three oldies at the moment 26yrs and 25yrs old respectively. With regular dental checks, the odd supplement and some extra feed in winter to help keep them in good condition they can take a bit more maintenance. However, I love to see them enjoying another summer out at grass with a shiny coat whiling the days away and some aren't ready to retire just yet!!
---
The warm June sunshine is just the thing for foaling and couldn't have been better for our latest new addition. A second foal from 25 year old Athelney Pale Magic and an unusual colour. The mare actually fooled us and we weren't sure she was with foal for quite a while as she didn't have much of a foal tummy. It was a quick and easy birth and her foal was up and sucking in no time. Just how we like it to be.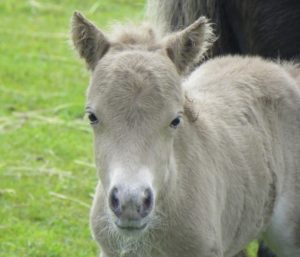 ---
We are pleased to announce another new arrival here at Moorsbeck. Although a textbook birth, the mare usually opts for the shortest possible gestation so her foals tend to be a bit flat packed with a thin coat and take a few days to get going. That said her foals are usually good ones and this one is no exception, a first for the stud from Athelney Pale Magic and a nicely marked tobiano, we couldn't be happier.
---
Being a small stud, we don't breed many foals and hate to part with the ones we do unless the right home comes along. It is always nice when we can see a pony sold as a foal/youngster a few years later in the same home we sold to, looking happy with the best care and attention anyone could wish for. I had to pinch this photo of Oaty a 2015 born colt that we gelded and sold to a lovely lady called Denise in Yorkshire. Denise puts regular updates of their antics together on FaceBook and it is great to see his progress, long reining, jumping in hand, going out for long walks which includes a bit of foraging in the hedge rows and just enjoying life and being thoroughly spoilt. Thank you Denise.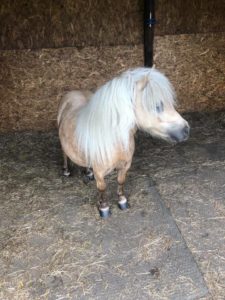 ---
It's May and we finally have a Moorsbeck foal. Milday Jan gave birth to a lovely, strong, chestnut filly very much the stamp of her sire Tawna Golden Shred. We think Jan overcooked her baby by a couple of weeks so after many sleepless nights it was a relief that we managed to be there when it mattered and safely deliver her rather large foal. Mum and baby are doing well and Jan is quite rightly, proudly showing off her baby to everyone who wants to meet her. This has proved a very successful pairing with three chestnut fillies in total (two for the Milday Stud) Well done Jan and Shred!!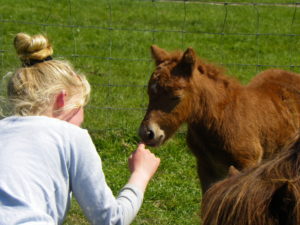 ---
Spring is definitely in the air!! For the last couple of days, the young stallions have become really full of themselves, racing round the paddocks, bucking, squealing and shouting at each other, answering any mare that calls out too. The older, experienced boys, look on with quiet disdain, munch their hay and bide their time knowing it's at least a month off until turnout with the ladies.
---
April, despite the lock down we are keeping busy and positive with calving and lambing especially with the glorious weather we are having. We should have a foal due at the end of the month/beginning of May and the ponies are enjoying the daily grooming ritual to rid them of their winter coat, quickly gathered up as luxury nesting material by passing birds!!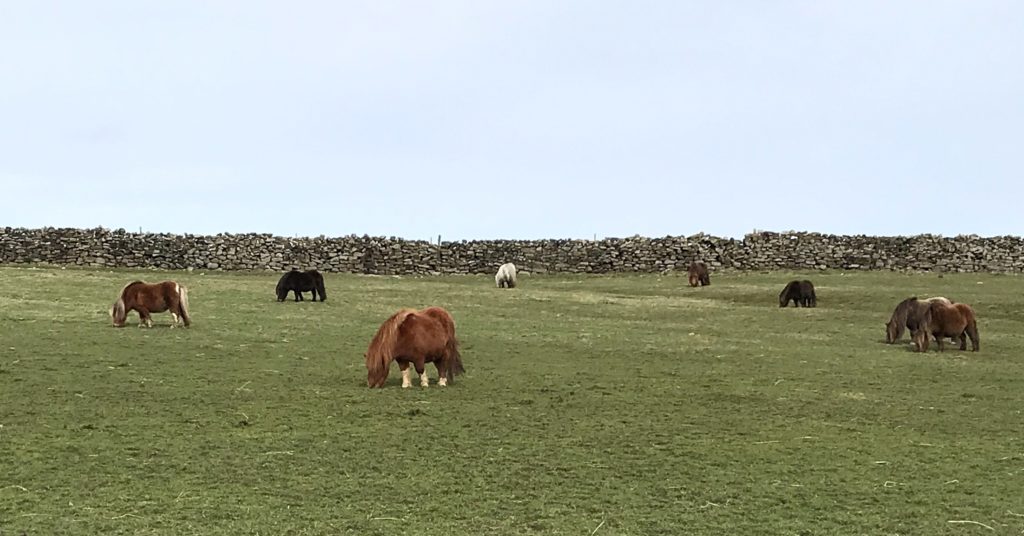 ---
2019
 September saw two more ponies join the stud. Sadly renowned breeder John Lawrie dispersed his Milday stud due to ill health, giving me opportunity to buy a couple of quality ponies. I had already inquired about a little dark chestnut mare, Milday Jan a couple of years earlier and the young stallion Tawna Golden Shred had caught my eye when he was for sale as a foal but I missed out on that occasion. Happily I didn't miss out this time. When they arrived courtesy of Adam Gibson transport, we were not disappointed and I can't thank John and June enough for letting me purchase them.
---
In July, Herbie came home! He was sold as a colt foal with stallion potential back in 2015. I kept in touch with his new owners and when circumstances changed took the chance to buy him back. He has been lightly shown with success and bred a foal so the plan is to put him forward for his VVE in 2020 and then use him here. Interestingly as a foal he looked to be a Cremello so was registered as such, however at 3 yrs old he suddenly coloured up, developing darker coloured patches so it turns out he is a Cremello Tobiano. His dam is my retired foundation mare and his grand sire is Athelney Pale Magic.
---
We were expecting our one and only foal in March 2019. Unfortunately it didn't go to plan. We quickly realized the foal was wrongly presented and it was more than we could deal with so  time to call the vet. The foal could not be saved but the struggle was on to at least do what we could for the mare. Down to the efforts of our amazing vet, my wonderful other half and 36 hrs of round the clock nursing from myself and my daughter, she miraculously survived and made a full recovery. A stark reminder that a healthy normal birth cannot be taken for granted.   As our first home bred mare, we could never part with her but decided to retire her from breeding. She now enjoys her time as a pet with our older mares and riding ponies.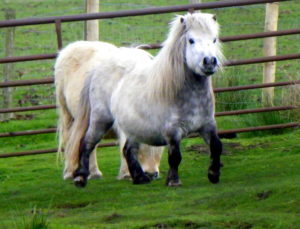 ---