Our farm is an upland farm, home to cattle, sheep and a small herd of ponies. We also have an abundance of wildlife from adders to buzzards. We have some SSSI land and work hard to maintain the habitat for many wading bird species who come here for their breeding season. We have a variety of plants in our meadows including Vetches and Orchids and various bog plants including Bog Aspodel and Spagnum Moss which are protected on the farm. This blog is here to give an insight into life on a hill farm throughout the farming year. 
2023
Autumn
September, officially Autumn although now it is forecast to be more like summer!! The foals are growing and luckily a local farmer has allowed us to buy surplus crops off his field so we might finally get some hay gathered up instead of having to buy it in from further afield. With all the wet weather and bad timing, our own crop had to be silaged for the first time in a long time this year and I was starting to worry about lack of winter fodder for the ponies. If the sun keeps shining we should get some good, late cut forage this next week, that will put my mind at rest once it's in the shed. We also had a busy couple of weeks, meeting some lovely people and finding new homes for three of our ponies. We are always sad to see them go but also know they will be well looked after and it will make life a bit easier going through winter.
Summer 
Our resident barn owlets are starting to fledge. This Owlet hasn't quite got the hang of flight yet and took a bit of a tumble so we decided to intervene and pop it back in the nest box for now in the hope it gives it a better chance of survival. The parents are still on feeding duty although they've had a rough time with the wet weather so have struggled to go out hunting regularly for the next meal and  it's not been uncommon to spot them out and about in the middle of the day.
August and it feels more like Autumn than summer, one good thing to come from all this rain are the field mushrooms. A ride round proves quite productive and will make a nice breakfast with a bit of toast.
 If squeamish or about to eat, look away now !!! One of our old mares has managed to injure her eye. It was apparent as soon as we checked her this morning. She was in obvious pain so was quickly brought back to the yard for a better look and I decided a vet callout was the best option. Once sedated and given some anesthetic, he was able to give it a thorough check up and flush it out. Its been fly-y weather of late and we think she has somehow managed to tear both top and bottom eyelid on an old fence post or wire whilst trying to rub them away. Thankfully the eyeball itself is undamaged and she shouldn't loose it. He has prescribed painkillers, eye ointment and antibiotics to clear any infection and wants her to remain indoors for the foreseeable out of direct sunlight and the flies until its fully healed.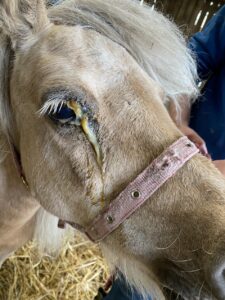 July is hay time. We aren't permitted to cut the meadows until now because of the countryside stewardship scheme we are in. This allows cover and food for nesting birds to fledging time. It also greatly benefits insects. It doesn't always mean the quality of the forage is as good as it could be, younger cropped grass has more nutritional value for livestock than later cut but as our grass doesn't grow as early it just about evens out and it is a trade off of trying to run an agricultural business alongside doing our bit for the environment. Its a busy sometimes fraught time, regular checks of the forecast usually followed by cursing when the weather does the opposite, adaptability, mind reading and having a sense of humour definitely help get the job done. It's nice that both the children want to be hands on and having our daughter at home more this summer means she can collect up bales before the next thunder storm arrives.
Nice to have some summer weather but grateful of the rain rather than the heatwave being seen in Europe. We have been steadily planting trees on the farm over the last couple of years, not as part of any government incentive but because we know the benefits it will create and because we want to do our bit. The first Autumn of planting was then followed by the hottest, driest Spring and despite best efforts we lost quite a few who just didn't have the roots to deal with the conditions. We have replaced those and it's great to see the trees finally thriving, out growing the tree shields and hopefully becoming a small woodland over the next twenty years.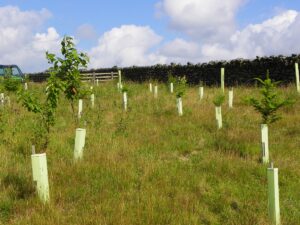 My son stumbled across a bee swarm the other day. There were several hundred in a buzzing ball in a small hawthorn bush. Sensibly he came away and told dad. We know one of the vets at our local practice also keeps bees so gave him a call and he managed to collect them up and start a new hive. He has left them in situ as there is plenty of food for them here, the heather will soon be in full flower and we might get a jar of heather honey if we are lucky. In Autumn, he will take them away and over winter them with his other hives.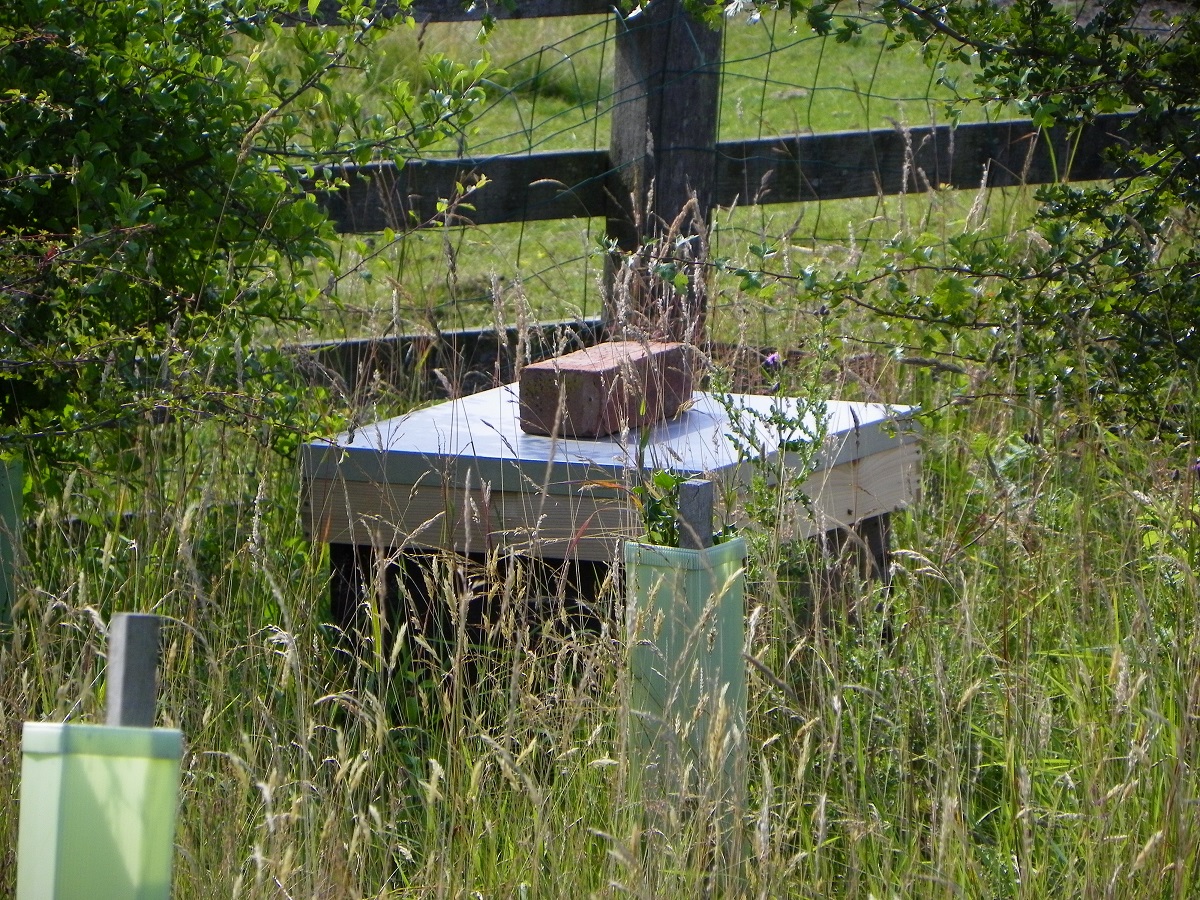 June 23
This week we had an Environmental Agency inspection. This is a check up on our faming practices involving muck management, use of pesticides and fertilizers and things like diesel and oil storage and disposal. All our paperwork has to be in order, hopefully our admin team (me) has ticked all the boxes and kept the info up to date and we are not in breach of any legislation about to cause an environmental disaster. It is compulsory and whilst the purpose of the visit is to carry out checks and advise, any breach of rules will be passed on to Defra and can incur hefty penalties and fines. I tend to be quietly confident but a bit apprehensive with these things. Legislation changes and it is my job to keep up. Happy to say it went well. Our paperwork is up to scratch and our farm operates in a manner that has minimum negative impact on the environment. Its good to hear we are doing things right.
Our young 3 yr old colt also had his vet inspection this week. Known as a VVE, colts put forward for stallion licensing undergo a VVE by a Shetland Society approved vet. This is only the second male that we have kept entire so it's a nerve racking time. We have high hopes for something we have kept for three years and although I think he is good enough to pass; there is always a possibility it might throw up some overlooked or unseen problem. The vet starts by checking microchip and passport correspond to the animal presented. He takes a height measurement and as required by all breeding stallion's a hair sample for dna parentage verification if it hasn't already been done. He then looks at the head symmetry, eyes and mouth. Eyes have to free from any problems and hereditary conditions. The mouth has to show no deformity and he will check under and over bite. Next he checks overall confirmation, working backwards and thoroughly checking heart, lungs, testicles, limbs and feet. Once satisfied he asks for him to be stood up, then walked and trotted on a hard surface. He also takes into account appearance, is he a good type to breed from and has he a nice temperament? Our colt went through a naughty know it all stage earlier in the year but after putting in some practice sessions with my daughter beforehand, he stood like a pro, walked and trotted up nicely and passed with flying colours. Of course with any breeding animal the next stage is to prove himself as a working stallion and produce the quality foals we aim for so he has a way to go yet and only time will tell.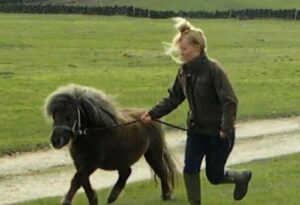 Spring
May 
Turnout for all our cattle. The sun is shining, it's one of my favourite days of the year and now the fields are full and the sheds seem quiet and empty. The grass is a little slow but hopefully will get growing as we have plenty of mouths to feed. Our third and final foal this year has just been born so the night shifts are over for another year. Hooray!!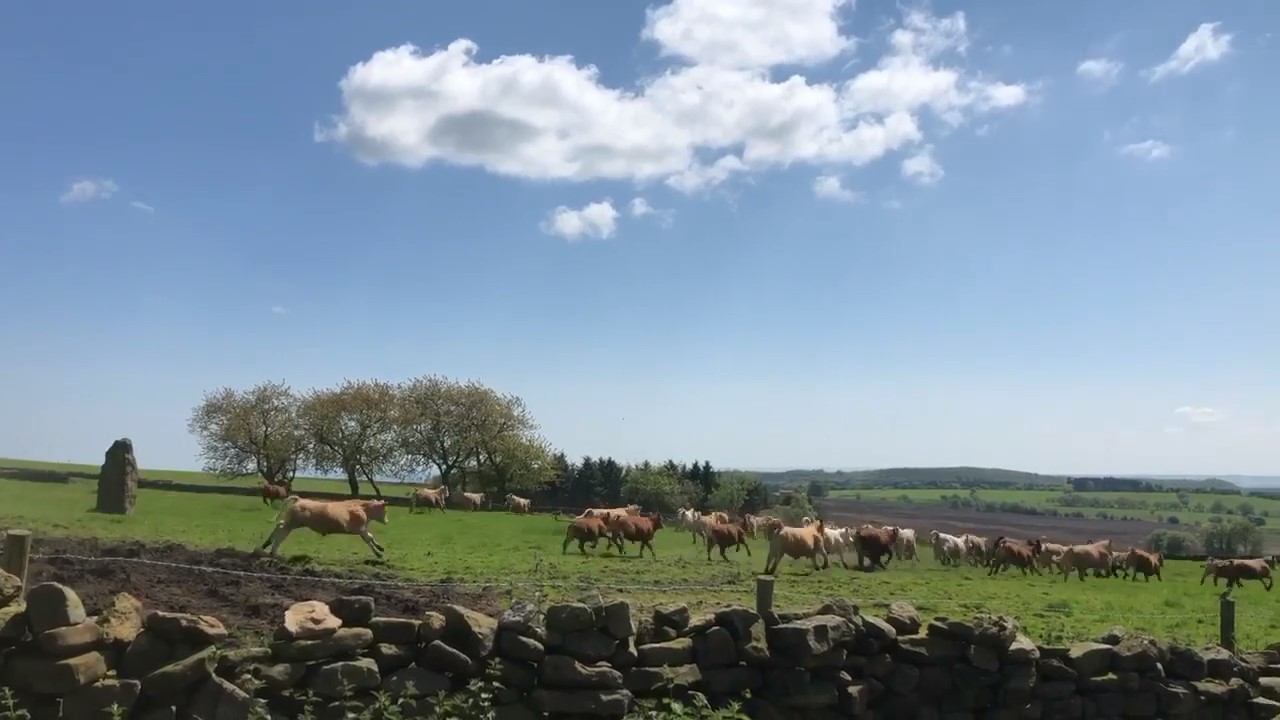 We knew May this year was going to be a busy one. Our daughter had her exams to get through and then left school. We are now in the tail end of lambing and calving and also have two foals. Our mares foal outside, watched but only intervened with if necessary. Our second mare to foal had started to foal but then showed no desire to push the foal out so did need a helping hand.  Once born, I stood back but she showed little interest in her foal and didn't seem to have much milk. She is normally a very good mother and when she didn't pass the afterbirth either we knew something wasn't quite right. The vet came out and put it down to a lack of Oxytocin, the hormone that initiates the birthing process and stimulates mothering and milk production. An injection got the afterbirth to come away eventually but with the vets assistance. It is always vital to check it comes away intact as can cause serious infection otherwise. As she was sweated up and seemed uncomfortable, he prescribed pain relief, ant-inflammatories and antibiotics deemed worth while for a few days to be on the safe side. Luckily we had just emptied the lambing shed so made a temporary pen where she could be left quiet to recover and start bonding with her foal. After a few days we were happy enough to turn her back out in the herd.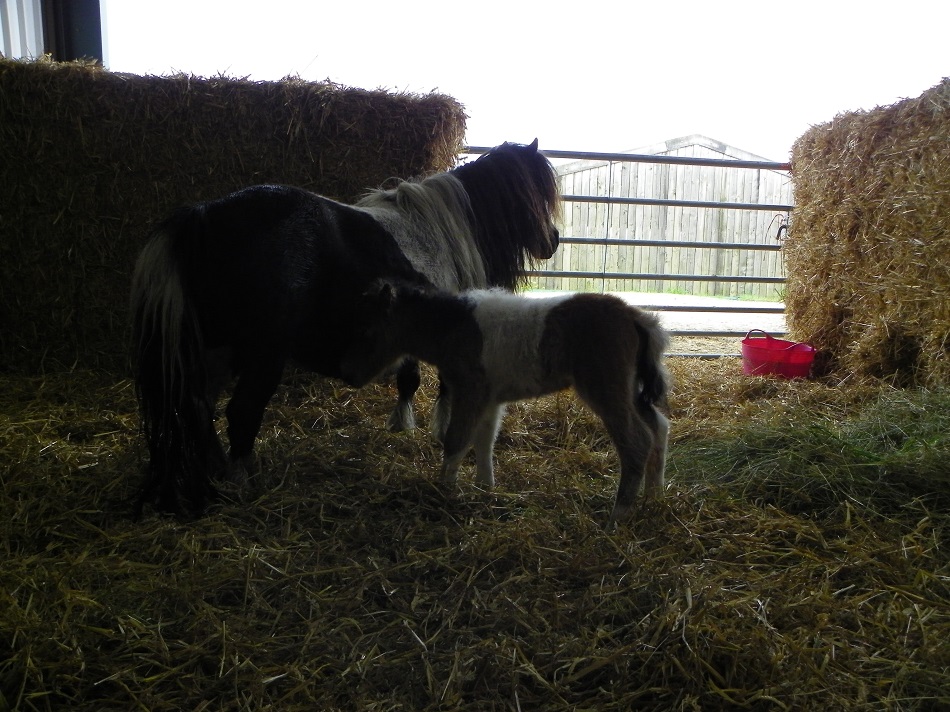 Lambing is in full swing. Its a busy and tiring time and frustrating when things don't always go as you hope. Our son has had some mishaps and bad luck but is determined to carry on smiling. Farming definitely teaches you life is full of ups and downs and his ability to not get disheartened and make plans for next year makes us proud parents. It will stand him in good stead down the line if he wants to be a farmer.
Our spring visitor's have arrived, Lapwing, Oyster Catchers and Curlew. The skies are noisy and busy. We like many other upland farmers have joined Country Stewardship schemes to manage the habitat for these bird species. Curlew in particular are in decline but numbers here are holding steady since we started back in 2011. Our bird expert who works with local farmer's, Moor keepers and Natural England comes and monitor's them from now until July, we have a Curlew cam set up on one pair and hopefully they will have a successful hatch. He may ring some of the chicks and this data will show if what we are doing on the ground is making a positive difference. We also get lots of twitcher's at this time of year with their binoculars and telescopic lenses. Curlew are well loved birds and belong on this land so it is vital we do what we can to help them thrive and survive here.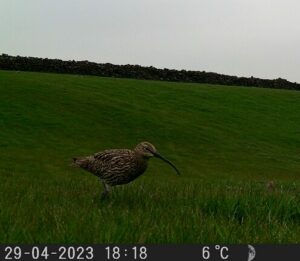 April showers take us into spring. It's been nothing but rain and everything and everyone is looking soggy. Lambing will be upon us in about 2 weeks. Our main flock lamb outside, it's less intensive and more natural so long as the weather is kind. Our son's small flock will lamb indoors though as they are first timers and he would like to be hands on so we have been busy setting up the lambing shed. We definitely now have two nesting pair of barn owls in our barn owl boxes which is exciting. Hopefully we won't disturb them too much although they seem to happily fly in and out over our heads. Calving has been thick and fast but it will be several weeks yet before we can think about turning them out.
Winter
Finally it's March and we've had a good dollop of snow. The ponies have thick coats and don't seem to mind at all. Our ewes are starting to get hungry and will soon be lambing in a few weeks so its important to keep filling the hay feeders.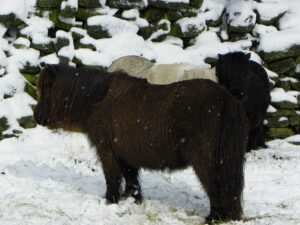 All our cattle are housed in side for the winter months so there is plenty of feeding and bedding up to do either end of the day. Calving has started and we are pleased with the calves so far from are two new young bulls. We are not intensive so need a good shaped, strong calf that will do well on poorer ground and our shorter grass growing season. Happy to be in at the moment, they will be turned out with their mums as soon as the weather picks up and grass grows in late Spring.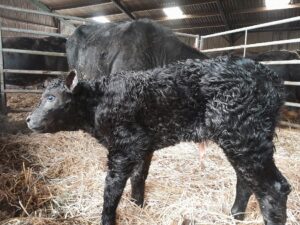 Winter is definitely here, several days of sharp hard frosts but not any snow yet. There's a lull in big jobs at the moment so it is a case of checking stock and spending time training our new young sheep dog before we get too busy.