STUD NEWS
November 2022
We have received some lovely comments and photo's of the two gelding's who went to live with Suzy and Ronnie. Now called Bracken and Bramble, they are happily settled and Suzy is doing lots of handling and furthering their education and it's great to hear they are being well behaved and thoroughly enjoying life in their plush new pad. They look so clean, fluffy and grown up too!!
A new addition but with paws not hooves. Charlie our son is more into the farm animals than ponies and especially likes his sheep, so we thought it only right he got his own first sheep dog pup. Today we collected Skah from Northumberland, lovely to meet his breeder's and extremely kind of them to give us lunch. He's settled in and is flat out asleep after such a busy, different day. Charlie is smitten already.
A sad time for the stud when the founding mare and matriarch of the herd passes away. Shadow has lived a happy, healthy life and got to a good age of 28 years. She is the one responsible for my love of miniature Shetlands, the first pony my three-month old daughter sat on, bred me my first foal, Moorsbeck Silver Lace and is dam to my first licensed stallion, Moorsbeck Herbie the Love Bug. She is sorely missed and I and her best friend of 19 years (they were rarely grazing too far apart) are left to console each other that she is no longer with us.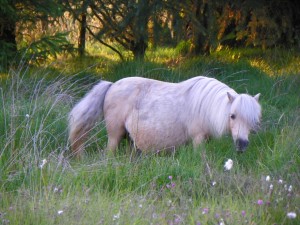 Due to a change of plan and through no fault of her own, we have now had backword on our filly Blossom who was meant to be leaving us just before Christmas. I always take a non-refundable deposit for this reason. Frustrating as it is, we care where our foals end up and long-term commitment to the pony is our main priority, so it is for the best. It is now too late in the year to be advertising her again so she will be available next year if the right companion/pet/therapy home comes along as she is easy to do in all ways and gets on with everyone, human and equine. In the meantime, I think she is very happy hanging out with her friends here.
It doesn't seem two minutes since the ponies were moulting like crazy and the birds were delighted to gather up free nesting material. Yesterday I suddenly noticed how woolly they now look, it's crept up on us and even with the unusually mild weather we've just had, nature has decided it's the right time to get prepared for winter. Over the next couple of month's we will get worming done through the whole herd for encysted red worm, feet will be trimmed before Christmas and it's a great time of year to try and slim a few off so they are ready for spring grass again.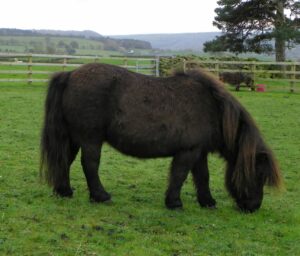 ---
October 2022
As well as departures, we have some new arrivals this month. This evening we welcomed a lovely new mare to the stud. Thanks to Sally and Bill for letting us purchase her. Following on was another quality little mare. Again, thanks to Victoria for letting us buy her. We must also mention A.J Horse Transport who stepped in at short notice to transport for us. We were given plenty of updates and videos en route and we will definitely recommend Jo and use her again ourselves in future if we need transport.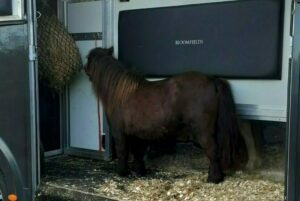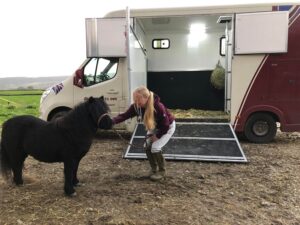 I'm very fortunate as a breeder to have found genuine nice people to buy this year's colts now geldings. Not only do they look settled in their lovely new home in East Sussex with their new mum Suzy but husband Ronnie took time out of his week to drive the 12 hr+ round trip to collect them and it's good to hear they all got back safely and have had chance of some rest. The other hi-light was meeting a five month old buzzard who Ronnie was collecting en route and having the chance to have a hold of him. I think I could easily start a new hobby. What a beautiful bird and a total privilege to have the opportunity. We wish Morse, Maverick and Buzz (the buzzard) all the best for your new beginning's. I think you are in very good hands!!
---
September 2022
Morse and Maverick our two colt foals have been gelded this morning. Stephen who is an excellent and very experienced vet makes a very clean and tidy job. They are bound to be a little sore and groggy from the anesthetic but should soon be back to their normal selves. We always turn them back out quite quickly so they can move around and ease any stiffness and swelling on our vet's advice. It's also helpful to still have them on their mum's for a bit of comfort. The next job in a week or so time will be weaning ready for going to their fabulous new home.  We also had our final foal Blossom micro chipped and vet checked which is all good. She's also back out in the paddock just chilling and today probably thanking her lucky stars, she's a girl!! We will be advertising Blossom in due course, looking for a lovely companion, pet or even therapy pony home for this lovely sweet-natured filly.
Following my last post, (perhaps I jinxed things) our taps have run dry. Livestock have been watered by IBC tanks for most of the summer but the house well managed to hang on until now.  Another very real sign of climate change, I guess. It happened back in 2018 and we were unprepared which was an absolute nightmare. This time we have the tanks, pipes and knowhow to cobble together a system so we can still have essential water to flush loo's, run a quick shower and use the washing machine once or twice a week. Hopefully that will put us on until the springs start running again although that might be late Autumn unless we get more rain. At least the ponies aren't worried about it, they are too busy taking it easy and enjoying the Autumn sun.
---
August 2022
When it rains, it pours!! Just as well as we needed it. After a night of thunderstorms and heavy rain, it's so nice to see the ford running again. Our recent stud visitors commented on how green it was here by comparison to their own stud. Their photos highlight just how baking hot it has been, the grassland looking very parched and scorched and they have had to feed hay to their mares and foals already. It was lovely to chat ponies, weather and Yorkshire for an afternoon and hopefully they will take some rain back south with them and the grass will green up going into Autumn.
The foals have had a busy couple of days, with their first proper farrier trim and vet visit for the passport, m'chip and health check. Pleased to say they behaved really well with only a little wriggling (to be expected) Both boys had their check over of eyes, mouth, lungs and heart from the vet who was very happy to report no problems and they are fine to go to their new home in a couple of months time once they have been gelded and weaned.
The heather is in full bloom and looks stunning despite the dry time we've had. Hay and straw has been gathered up ready for the Autumn and Winter ahead and it's time to get in lots of headcollar and leading practice with the foals. Always a lot of fun showing them the ropes whilst their mums watch on patiently waiting for them to catch up. Not sure Morse is so keen to model a pink one but he'll soon grow into the blue one which might be more his colour.
---
July 2022
Haytime, it's been perfect weather for crisping up the grass to make some good hay.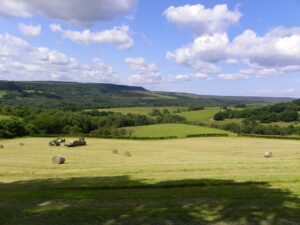 Hottest day on record, just too hot for me and even the ponies are wearing sunhats.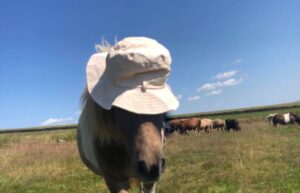 Absolutely delighted for Rachel, a 5th place and healthiest body condition rosette with Moorsbeck Juniper at the Great Yorkshire Show. Juniper's full sister of Milday stud came a well deserved 1st.
---
June 2022
 The glorious summer weather we are currently having means all the ponies spend time snoozing and trying to keep cool. Absolute bliss!!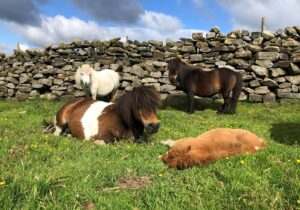 ---
May 2022
All our foals have now safely arrived, Morse, a super confident, independent, nicely marked colt and his younger sidekick Maverick who we think is a very smart looking colt with a beautiful head. Blossom our filly this year is a pretty chestnut with white socks and has the most loving, people friendly nature.
We have decided that this year's foals will be available to new homes in the Autumn, their details and photos can be seen on our contact page when they are nearer weaning time.
---
April 2022
Congratulations to Adwyrnant Stud on the arrival of their first crop of lovely dilute foals from our homebred stallion Moorsbeck Herbie the Love Bug.
 Photo of  Moorsbeck Herbie the Love Bug, on the day he was licensed (2020)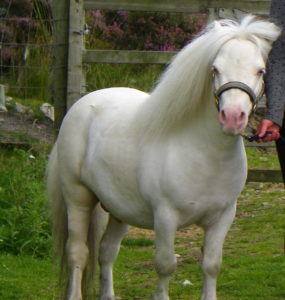 It's always nice to hear how ponies we have bred are getting on with life. Ted now four years old, happily acting as a child's first riding pony. Well done Ted and Keira.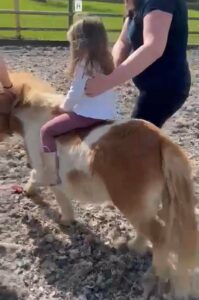 Great news from the Ardanbeag Stud that maiden mare Moorsbeck Field Fairy has successfully had her first foal for the stud. It doesn't seem so long ago since Fairy was a tiny foal herself. How time flies!!
Photo of Moorsbeck Field Fairy before she moved to her new home (2020)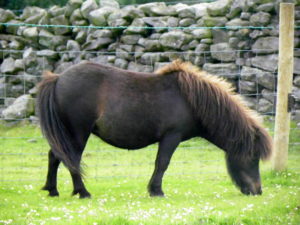 ---
March 2022
 The shows are getting going and it was nice to hear Moorsbeck Juniper placed 3rd in a strong 2/3 yr old class at the RNAS Spring show for owner Rachel. We wish them more fun and successful days out over the coming months.
Photo of Moorsbeck Juniper as a foal (2020)