STUD NEWS
June 2022
 The glorious summer weather we are currently having means all the ponies spend time snoozing and trying to keep cool. Most have now fully moulted into a shiny sleek coat apart from our yearling who looks like she has dreadlocks. Hopefully her tangles will shift as we can't wait to see her true bright bay colour and proper shape, before it's time to regrow her winter one!!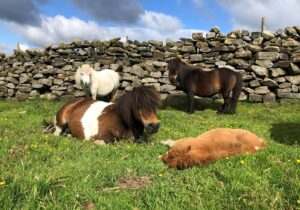 May 2022
After some heavy thundery downpours overnight, the mares and foals enjoyed drying off in the warm sun. That appears to be it for our foaling season this year. Now it's time to watch them grow. Morse is already such a cheeky chappie, full of confidence and quite happy to wander off away from his mum. I don't think she really misses him!! Blossom is super cute and speedy and although smaller than Morse, soon puts him in his place when he tries to play too rough. Maverick is quiet and shy being the youngest and mum is still precious about allowing him to go and make friends but I'm sure he'll soon be charging round with Morse and vying for Blossom's attention. A summer of fun ahead.
We have decided that two of this years foals will be available to new homes in the Autumn, their details and photos can be seen on our contact page.
Well I was almost caught out by this one!!  At day 324, Lou had only been bagged up for a few days but didn't seem too near. After closely watching her for a couple of nights, I decided to turn her out for a pick of extra grass whilst I did a few jobs round about. Not long after turning my back, Lou decided to foal in the big field right in the midst of the rest of the herd. Some of the older mares and a couple of fillies gathered round and promptly started licking the little colt dry before mum had got to her feet. I made sure the afterbirth had also been passed cleanly before carrying foal and walking mare back to their own field for some peace and quiet and bonding time. Tiny, neat and nicely marked, he was soon up and looking for the teat. The whole process was very quick and only took about 15 minutes. With all the recent Top Gun hype and with Lou's apparent need for speed we have to decided to call him Moorsbeck Maverick.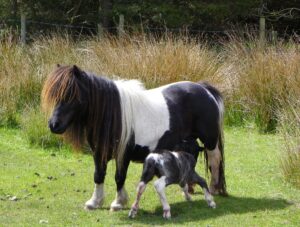 I think Magic is as relieved as I am to get this little one out finally, although she had quite a few strong after pains and has been sore for a day or two. We kept a close eye on her and her filly who was also abit slow to get up and going. They are now enjoying time in the field with the other mums and foals. Moorsbeck Orange Blossom arrived in the early hours at 354 days.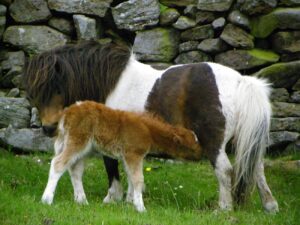 April 2022
Pleased to announce the safe arrival of this well marked colt born at 1.15am under an orange coloured moon, Mum is extremely proud of him and now both are enjoying the beautiful sunny day. A bold, charismatic and confident colt from day one, we would like to introduce Moorsbeck Morse.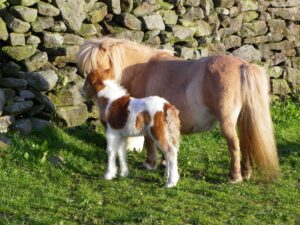 Congratulations to Adwyrnant Stud on the arrival of their first foal, a lovely palomino and white filly from Moorsbeck Herbie the Love Bug.
We can't wait to see the rest of his 1st season foals!!
*Update* We have since heard that Herbie has sired another two fillies, a beautiful palomino and white and a smoky black with what looks to be amber eyes.  Well done Herbie, you have done us proud and we are so pleased for you Elin that he has got off to a great start for your stud.
Photo of  Moorsbeck Herbie the Love Bug, on the day he was licensed (2020)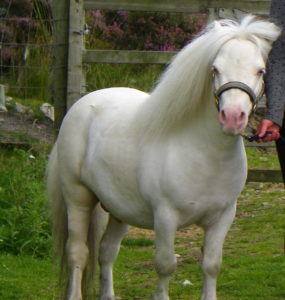 It's always nice to hear how ponies we have bred are getting on with life. Ted now four years old, happily acting as a child's first riding pony. Well done Ted and Keira!!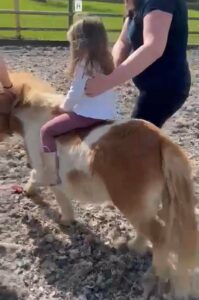 Great news and congratulations….. It was lovely to hear from the Ardanbeag Stud that maiden mare Moorsbeck Field Fairy has successfully had her first foal for the stud. A nice little blue roan colt after their homebred sire Lomond. Mum and baby are bonding very well. It doesn't seem so long ago since Fairy was a tiny foal herself. How time flies. Our own foals are seemingly not in any rush to put in an appearance just yet so more watching and waiting for me for now.
Photo of Moorsbeck Field Fairy before she moved to her new home (2020)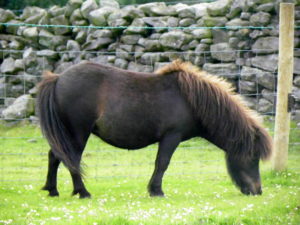 ---
March 2022
 The shows are getting going and it was nice to hear Moorsbeck Juniper placed 3rd in a strong 2/3 yr old class at the RNAS Spring show for owner Rachel. We wish them more fun and successful days out over the coming months.
Photo of Moorsbeck Juniper as a foal (2020)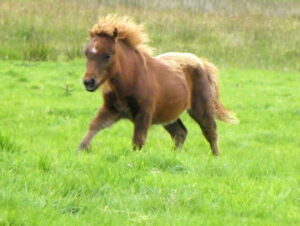 ---
ABOUT US
 We started with two mares and a stallion in 2008, bred our first foal in 2010 and now keep the number to around 15 Shetland ponies. We don't breed many foals as it is a hobby and like to keep in touch with any that move onto new homes. We had our first homebred colt licensed as a stallion in 2020, now running at a stud in Wales and have retained another to run on ourselves who we think has potential. Our other boys are usually gelded here before finding new homes for showing, pets or companions. Retained fillies live with our retired mares ( the oldest being 28 yrs ) until mature enough to run with the stallion and raise a foal, we like them to have a few years of growing up and fun first. Others have joined fellow breeder's for breeding and showing. As we don't get much opportunity to go out showing ourselves, it's lovely to follow their progress and see them flying the flag for our prefix.
The pony herd live on our hill farm, alongside cattle and sheep. The land is typical of a upland farm and perfect for a native breed of pony to run on. We like to try and keep them fit not fat, so they spend the summer on our rougher grazing areas and in winter turn out onto our larger, grass fields. We bring them in for supplementary hay and a bucket feed to ensure the breeding mares get their minerals but they live as naturally as possible to retain their hardiness.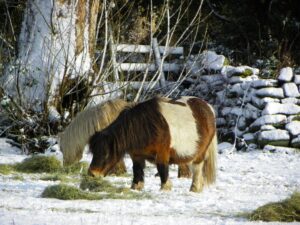 ---