News 2021
We are definitely still in the grip of winter and whilst we don't have as much snow as some, we have a reasonable covering, bitterly cold winds and plenty of ice. The sunrises and sunsets have looked stunning but as the thermometer reads -6 and the wind chill feels like -11 its been quite a challenge to keep everyone watered and in plenty of hay. My first job of the morning is to go out armed with two kettles to defrost taps, buckets and troughs. We had a pony colic a few years ago and the vet thought it was due to a reluctance to drink the icy cold water so I now offer aired water throughout the day as a precaution and more for my peace of mind, it's nice to be sure they have all had a good drink. Hopefully after a proper winter we will welcome in a proper spring but at the moment that feels some way away.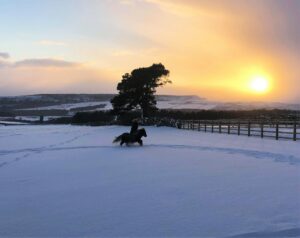 ---
Today I got a lovely surprise from my partner Tom, it's soon to be my birthday and a reasonably sized one!! I'm not a big one for birthday celebrations and prefer a practical present to something more glam so he hit the nail on the head with some smart new post and rail fencing for the foaling paddock and school. Hopefully we'll have some foals in there this year and the photos will be less wintry by then.
---
Winter is definitely here and I love it!!. There has been several days of snow fall and plenty of photo opportunities whilst out and about doing jobs hence the website taking on a real wintry feel. The ponies personalities stand out in this weather, the forager-survivors instinctively digging down through the snow with their hooves to find the grass beneath, the lazy ones who know if they stand looking mournful at the gate we will take pity and dish out the hay and the young and daft and occasionally the old and daft (who still think they are young) having an excited gallop and play in this new white world and who like me will be just a little bit sad when it's gone again.
---
News 2020
---
 2020 has been a difficult and different year for everyone but I wish all my family and friends a happy holidays and better things to come in 2021.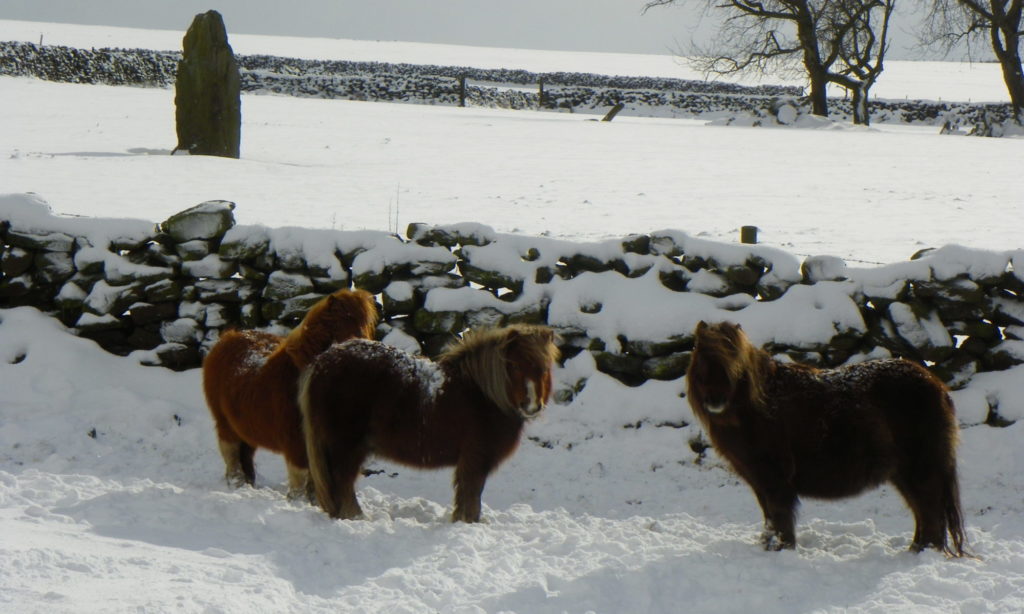 ---
The year seems to have flown by, the foals are now fairly well grown and definitely looking rather woolly for winter. The weather seems to be stuck in a pattern of rain, fog and more rain so everything is very muddy and dank. Here's hoping we have a white Christmas.
We are delighted to get updates on all the ponies who have gone off to pastures new. They have settled nicely and it's nice to see photo's and hear what they've been getting up too since they left.
All our passports are finally back from the SPSBS office and the majority of our registered ponies are also now DNA typed. It is something I have been meaning to do since I started breeding. I think it is important that breeding animals can be traced back through their parentage without any discrepancies ( accident's can happen!!) and also it means that an animal cannot be passed off as another nor can future offspring be registered as belonging to another if they required a DNA match for licensing etc down the line. We fully plan to do all foals which may be used for breeding in the future.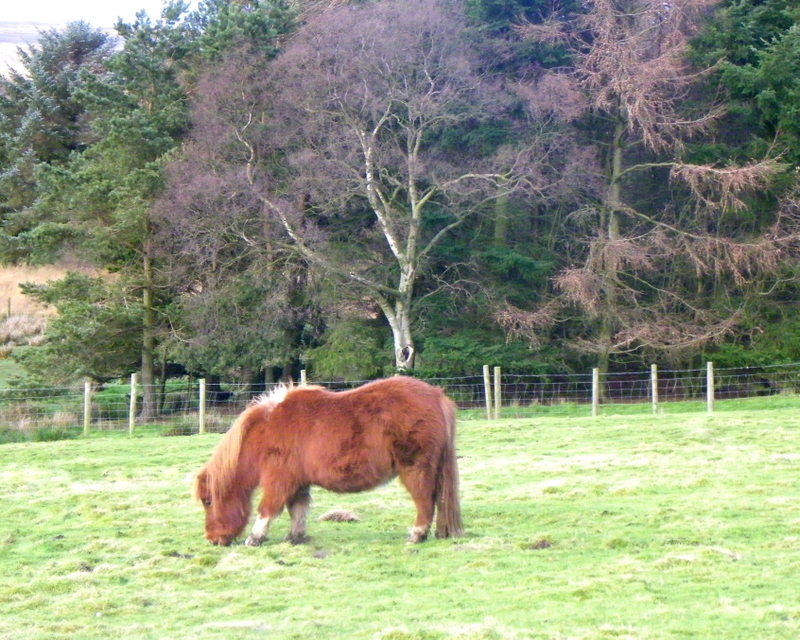 ---
Today we said goodbye to our young home bred stallion Moorsbeck Herbie the love bug. He will be much missed but I am happy he will get chance to run with a nice herd of mares next spring and won't be wasted as he was here. I wish his new owner all the best and am looking forward to some lovely photos of him in his new home in Snowdonia Wales.
---
Well today saw three of our ponies, two home bred's leave us to go on a new adventure. I always have mixed emotions, sad to see them leave, but delighted they are going to their lovely new homes with likeminded shetland pony fans. I have to say the homes they have found are definitely 5* and it was a real pleasure to meet their new owners and even with sensible covid precautions in place there was room for tea and cake. We wish them all the best and are looking forward to getting updates once they've settled in.
---
What our stallions get up too when not running with the mares. This is Tawna Golden Shred, smashing his PB in style. It gives them something to do so they aren't bored and helps keep them fit and as you can see in photo 1, he's really going for it!!
---
Foot perfect….. Juniper one of our 2020 foals had her first proper trim from our farrier Richard. Prior to that we have handled her feet from an early age and given them a tiny rub round ourselves so she isn't too frightened by the experience. Happily she took it all in her stride and was soon back out in the field having a gallop and a quick drink from mum. In preparation for weaning and moving to her lovely new home in a few weeks time, we like to introduce new experiences, new ponies, being stabled, eating bucket feed and hay so that when the time comes she will hopefully settle quickly and find it far less stressful