NEWS 2021
There seems to be a never ending list of jobs to wade through at the moment and with rain in the forecast, today had to be the day to get the dressing on some of our paddocks. Normally I don't worry about the lack of grass. Shetland ponies can live on very little and too much of the green stuff can present all sorts of problems; however extremes of wet and dry conditions over the last few years on our already unforgiving land has taken it's toll and some of the paddocks desperately need a pick me up. We've used a natural fertiliser product and it is safe to put horses straight back on although we plan to rest the fields for as long as possible for maximum benefit. The company who supply it, Simple System were very helpful and the customer service and delivery were excellent so if it makes a difference, I will be happy to recommend and use them again. We spread it the old fashioned way by hand and looking at the photo's, I'm not sure how much we managed to get on the field as we seem to have a fair bit on ourselves but it is another job well done and it can now rain, wash it in and make the grass grow.
---
Silly filly!!!  We think that's it for our foaling this year with just the one gorgeous filly which I am very happy to have. Most of our mares seem to be coming in season which is a touch earlier than normal for us and might be due to the unseasonably warm, dry spell. We are starting to plan who goes with who and where in time for turning in with the stallions although it can be a logistical nightmare finding a vacant field for each small herd. Our boys have to walk past the girls most days for turn out and are really starting to walk with more purpose, neck arched, nostrils flared in order to catch the ladies eye, in turn the girls and especially the young fillies are equally as flirtatious and excitable, prancing and high tailing when they see the boys. We plan to use two stallions this year so fingers crossed we will have some new combinations and nice foals to look forward to next year.
---
We have finally got a name for our foal now we know the sex. I am delighted to announce it is a filly and will be called Moorsbeck Fearne. Her dam is new to the stud and understandably quite foal proud so it has taken a couple of days for her to relax and let us say hello to her little pride and joy. She is by the stallion Tussilago Jesse James, a 30.5 in bright bay stallion. He has been shown successfully by the Tussilago stud including being well placed at the 2018 Breed Show. Fearne has a nice mix of Kerswell and Earlsdon lines amongst others and we are looking forward to seeing her grow over the summer.
---
What a difference a day makes…….. thankfully our new arrival came into the world today in the very early hours and not yesterday in the snow showers. It was a hard frost and an icy wind but a quick text book birth and now enjoying some snooze time in the sunshine.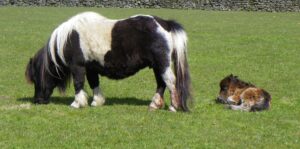 ---
What happened to Spring?? Looking back over my posts so far, I realised just how many are about the weather but being a farmer it seems our whole life is affected by it and we live by the seasons. My mum kindly brought me some lovely flowers at the weekend from her garden as well as a delicious cake and was just commenting on how uplifting it is to see all the daffies and tulips out with their cheery pops of colour, fast forward 24 hrs and we were in a white out!! The daffies and tulips were bent double covered in snow looking rather sad and all the chirpy chatter of the birds had gone quiet. We have just started lambing which we do outside, what the weather does over the next few weeks will determine how well that goes and how much hard work we'll have to do bringing cold lambs in for a warm up. All that said, with a clever, experienced ewe and plenty of milk in their little tummies it is truly amazing how much they can survive and thrive even in less than ideal conditions. We hope to have a foal due anytime soon so night watch has stepped up too. Not at all pleasant doing the hourly checks in this kind of weather in your pj's with a head torch. I also plan to foal outside unless the weather is just too bad so fingers crossed Spring returns very soon.
---
Wow, the weather is so up and down at the moment, yesterday felt like summer never mind spring and the ponies were feeling the heat. The flies were out in force too!! Whilst most stood swishing their tails crossly or kicking at their bellies, Scarlet decided a splash in the stream would just do the trick nicely to cool her down and rid herself of the pesky midges. A few of ours have almost moulted out completely but they might regret it if the forecast snow does arrive on Easter Monday and plunge us back into winter. Hopefully it will be short lived and spring will soon resume in time for foaling. We don't think we'll have a busy year with only one, possibly two due but it is no less nerve racking and we hope for a healthy happy mare and foal as the outcome.
---
Well what a busy weekend, calving is in full swing, lambing is just around the corner and the weather is feeling very spring like so it seemed a good time to catch up on a few over due jobs. All the girls have been in for a foot trim, worm and a good brush and tidy up leaving just the boys to do. Next it will be foal watch and deciding who runs with what stallion ready for turn out time as the boys seem eager already!!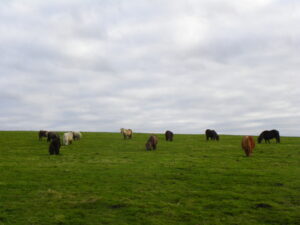 ---
Our little gelding Moorsbeck Super Ted sets off on his first ever journey to Staffordshire today. He has always been a big baby and a bit of a nervous soul so we are really pleased he has found a lovely home who understands this, will take things slowly and give him lots of attention. His new owner practises Natural Horsemanship techniques and we look forward to seeing Ted grow in confidence once he's settled in.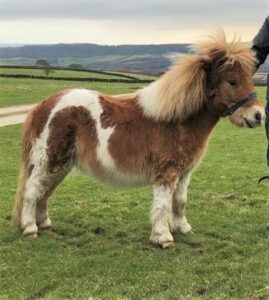 ---
 Too cute…….. It was great to see this picture of Moorsbeck Juniper modelling with her stable mate and big sister for luxury clothing brand Fairfax & Favor. A fabulous, winning photo for her owner Rachel.
---
We are definitely still in the grip of winter and whilst we don't have as much snow as some, we have a reasonable covering, bitterly cold winds and plenty of ice. The sunrises and sunsets have looked stunning but as the thermometer reads -6 and the wind chill feels like -11 its been quite a challenge to keep everyone watered and in plenty of hay. My first job of the morning is to go out armed with two kettles to defrost taps, buckets and troughs. We had a pony colic a few years ago and the vet thought it was due to a reluctance to drink the icy cold water so I now offer aired water throughout the day as a precaution and more for my peace of mind, it's nice to be sure they have all had a good drink. Hopefully after a proper winter we will welcome in a proper spring but at the moment that feels some way away.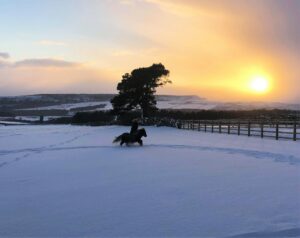 ---
Today I got a lovely surprise from my partner Tom, it's soon to be my birthday and a reasonably sized one!! I'm not a big one for birthday celebrations and prefer a practical present to something more glam so he hit the nail on the head with some smart new post and rail fencing for the foaling paddock and school. Hopefully we'll have some foals in there this year and the photos will be less wintry by then.
---
Winter is definitely here and I love it!!. There has been several days of snow fall and plenty of photo opportunities whilst out and about doing jobs hence the website taking on a real wintry feel. The ponies personalities stand out in this weather, the forager-survivors instinctively digging down through the snow with their hooves to find the grass beneath, the lazy ones who know if they stand looking mournful at the gate we will take pity and dish out the hay and the young and daft and occasionally the old and daft (who still think they are young) having an excited gallop and play in this new white world and who like me will be just a little bit sad when it's gone again.