STUD NEWS
2023
  It's been an odd job day, farrier followed by worming and ideally a good grooming session for everyone but it was too wet. This is 2 year old Fearne happy to stay inside out of the rain whilst waiting patiently for her turn.
Winter is back, a good few inch of snow and a wild wind but nice in the shelter of the trees with the sun finally out. The ponies are happy so long as they have their hay to munch at.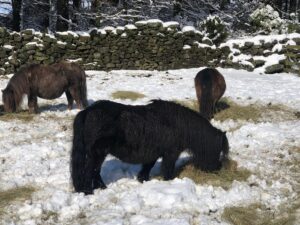 Spring is here!! At least meteorologically speaking but I'm not sure the cold winds and frequent rain showers blowing across the dale make it feel like much of an improvement on winter. Most of the mares have come out of winter with spines and ribs felt under their woolly coats which is the ideal body condition for this time of the year and means they can enjoy a bit of better grass when it starts to grow again.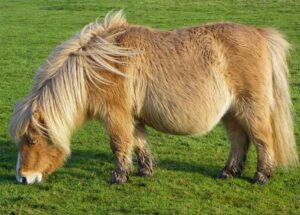 We make vague plans for the year ahead but know that life in general and especially where animals are concerned takes it's own course and we just have to go with it. We didn't plan on it being a busy year foaling wise as we have a few family commitments to fit in but we may have a foal or two due later on in the year.