ABOUT US
I'm not from a horsey family or a farming background but somehow managed to end up with a love and passion for both so think it must be in my blood somewhere. As a child my riding was limited to pony trekking and a few lessons and as I got older a part time job at a local stables but I didn't get my own until I was an adult.
When I met my partner Tom in 2000, I entered the fascinating world of farming, he is a ninth generation farmer so never entertained doing anything else and his family have always lived local to this part of Yorkshire. I moved permanently up to the farm and made it home in 2004. It is a commercial but non intensive beef and sheep enterprise which Tom runs along side his father and having gained more experience over the last sixteen years, I have taken on the roll of third hand  and farm secretary.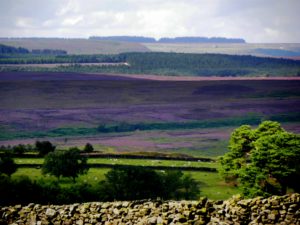 The farm is around 900ft above sea level, set out in an exposed position on the North Yorkshire Moors. We are surrounded by an ocean of glorious purple heather which takes your breath away in August and September but are also prone to days of thick dense fog, strong winds and some memorable bad winters with a fair helping of snow.
The farmland itself is a mix of old meadow lays in the hay fields which are a magnet for several species of butterflies and birds particularly Linnets and wet, boggy areas of sieves (rushes) which provide a perfect habitat for Lapwing, Curlew, Oyster Catcher and Snipe. We also have Red Kites, several species of Owl, Buzzards, Woodpecker, Skylark, Nightjar and Woodcock.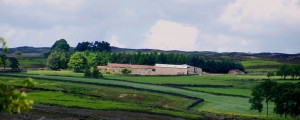 A dream came true in 2008 when I started Moorsbeck Ponies, a small scale stud and shared hobby for me and the children. We started out with two palomino mares and a grey stallion, breeding the first foal with our prefix in 2010. The pony numbers have since grown in recent years with thirteen foals and proud to say, my first homebred licensed stallion in 2020. I am mindful to keep it small so all get plenty of love and attention and don't aim to breed every year. I am choosey over new homes and ponies only leave if the right one comes along. I am in touch with all owners of ponies who have moved on from here and it's lovely to hear how they are getting on. I like a good natured pony with plenty of character, intelligence, abundance of hair and of course as correct as possible but I don't think I have a set type or colour as such. I have simply bought lines and ponies that have caught my eye and I also have a real interest in colour genetics.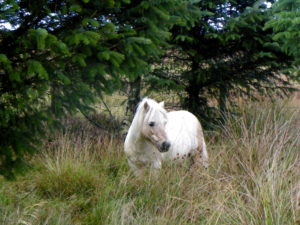 Shetland's are a hardy breed, perfectly suited to our rough, rugged land and the minimal natural shelter it offers. On bad days they will be found hunkered down at the back of the dry stone walls or frantically digging out the rougher grasses when there's a covering of snow.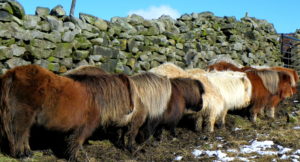 Small in statue but mighty in personality, they win your heart, give us laughs everyday with their antics and are now a huge part of our family life. They have also taught me so much (I'm still learning) and it's been great to get much needed help and advice from others who have bred these ponies for 30, 40 or even 60+ years. I have made many new friends, both here and abroad.
The children are hands on with all the animals, whilst our son is definitely the budding young farmer and prefers his tractors, dogs, cattle and sheep, our daughter has become a real help and I feel lucky that it is time well spent together running the pony stud, she enjoys training the foals, has a good eye and knows what she likes or doesn't in a pony. She also enjoys hacking, bareback riding and jumping on her two bigger ponies. Although not his first love, Tom has gotten used to seeing them about the place and is happy to be hands on if needs be and has proved invaluable with a bad foaling and an escapee stallion!!!
Going forward we hope that one day the children will continue with both farming the land and breeding these amazing little ponies for many more years to come.